Conference & Convention Center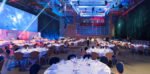 Munich
Germany
The INFINITY Hotel & Conference Resort Munich in Unterschleißheim is the largest hotel and conference centre on Munich's north end. It is also the top choice for conventions and events. Located just outside Munich, it boasts optimum connections to the city centre and airport alike. We offer you a one-of-a-kind hideaway for events, private parties or a relaxing couples' retreat.
Tirana, Albania
Tirana
Albania
Welcome to the largest Hotel & Conference Centre in Albania!
Tirana International Hotel & Conference Centre is the best Hotels in Albania.
It is the only, largest and the most prestigious "Hotel and Conference Centre" in Albania, located in the Main Square of Tirana. Combining a truly strategic location and breath-taking view of the capital city, where we guarantee that your stay will be unforgettable.

Fully renovated in August 2015, this 4 star hotel, offers luxurious and personal service of the highest quality.