Boutique Properties

Santorini
Greece
Esperas, one of the world's best hotels as rated by Fodor's Travel, is located in Oia, Santorini's premier location. Everything we do at Esperas is designed to make your stay unforgettable.

Elba
Italy
The Boutique Hotel Ilio in Capo Sant'Andrea on Elba is defined as a "Boutique Hotel", which means a small hotel with a certain charm and an unmistakable personality, in which the beauty and harmony of the setting is an integral part of the surrounding authentic and wild nature, creating an original and exclusive combination of environments, where design valorises nature and nature complements the furnishing of the hotel.

Florence
Italy
The Principe hotel is an elegant four star hotel with a romantic view over the Arno river in Florence, a short walk from the Ponte Vecchio, Piazza della Signoria and all of the amazing attractions located in the historical center of Florence.

With its 20 rooms, well-decorated with precious textiles and ancient furnishings, the lovely Italian-style garden and the beautiful common area with original frescoes, the Principe Hotel will be your home away from home.

Cumbria
United Kingdom
Located in the heart of England's Lake District and set in 14 acres (5.7 hectares) of established gardens and well-maintained private woodlands, this luxurious 36-room boutique hotel is on a hilltop overlooking Lake Windermere and the perfect base from which to explore the scenic surroundings.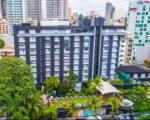 Panama City
Panama
Urban hotel, designed to offer a perfect stay in the city. We are located in the most privileged area of Panama, the heart of the banking area.

Multi City
Multi Country
At Room Mate we always put ourselves in your shoes, thinking like our guests. We totally understand the importance of customizing every meeting and event. Each one is completely different, and we are so ready to start organizing!

To make every event pop, we have developed the figure of the Events Manager, who will delightfully help you with the planning, and make sure your event goes flawless. No loose threads!

Our venues are designed to exceed your expectations. We even dare to say that our spaces and facilities will leave you breathless. Room Mate hotels are always in the City centre, and so are our exclusive spaces for events. An exceptional location is the signature for our meeting facilities. The perfect venue awaits!